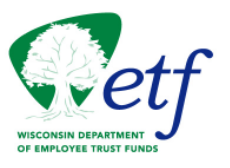 Dental & Vision Plans Enrollment
If you are currently enrolled in dental and/or vision benefits, you will automatically be re-enrolled in the same plan(s) for 2021 and don't need to do anything.
Active Employees
Dental and/or Vision Enrollment
If you plan on enrolling in a different dental or vision plan for 2021, or adding a major coverage supplemental dental plan, visit the State of Wisconsin – ETF enrollment website to verify eligibility and coverage. You will receive a new ID card if you are a new subscriber to a plan.
Local Employees
Local employees should check with your employer to see which dental and vision plans are offered.
New Hires & Current Enrollment Changes
New hires or currently enrolled employees who would like to change your election should visit with your payroll/benefit specialist. 
Wisconsin State & Local Retirees & State Continuants
Open enrollment for the 2021 plan year is closed.
To make changes to your dental or vision enrollment, mail one or both of the following forms to Delta Dental of WI.
Dental and/or Vision Enrollment
State and local retirees and state continuants who qualify and wish to enroll in supplemental dental and/or vision benefits please work with your benefits specialist.
Contact Us
For questions about enrollment or our dental plans contact: 
Delta Dental of Wisconsin Customer Service
Hours: 7:30 a.m. to 5 p.m. CST, Monday - Friday
Phone: 844-337-8383
Email: ETFCustomerService@deltadentalwi.com
For vision plan questions contact:
EyeMed Customer Care Center
Hours: Monday - Saturday, 6:30a.m. - 10 p.m. CST
Sunday, 10 a.m. - 7 p.m. CST
Phone: 855-544-6035
online: eyemed.com